Why Use the BigDogs CHIPS Sites?
Because Secrets of the Big Dogs CHIPS Traffic Sites DELIVER!
Many people balk at spending money for traffic, especially since there is SO MUCH available for free.
What is the difference?
Secrets of the Big Dogs recommends the CHIPS Traffic Sites for MANY good reasons. QUALITY Traffic being the most important, but EARNING POTENTIAL is a close second.
My Safelist Heroes

On individual CHIPS sites, these two sites are carrying the traffic load: State-of-the-Art-Mailer and Master Safelist Blaster. They are the most expensive, but also pay the highest commissions. You get what you pay for.
Let's look at traffic for the largest producer: State-of-the-Art-Mailer
I am at the 30,000 Button mailer level, and can email every 72 hours. I earn 50% commission. I get PAID EVERY WEEK. Top Moneymaker Safelist for Affiliate Commissions.
Notice the spikes - ads are being opened on the day the ad is sent, ranging 150-300 unique clicks on those days.

Master Safelist Blaster shows a more consistent pattern because it takes DAYS to distribute 556,000+ solo ads to 300+ sites.
At the Gold membership level, I can email every 48 hours, and earn 40% commission. Another Top Safelist Moneymaker for Affiliate Commissions.
The new Bronze member level is more affordable for starters.
The auto-submit feature allows me to save 5 ads that will automatically submit in rotation the next time that ad type can send. Completely on autopilot.
I am getting 100-150 UNIQUE clicks per day.


Herculist is one of my constants. I mail to over 207,000 members per day, every day. The Lifetime Gold upgrade is always being promoted - watch for the $25-$50 specials. Gold earns 50% commission.
With Herculist I get 40-155 unique clicks per day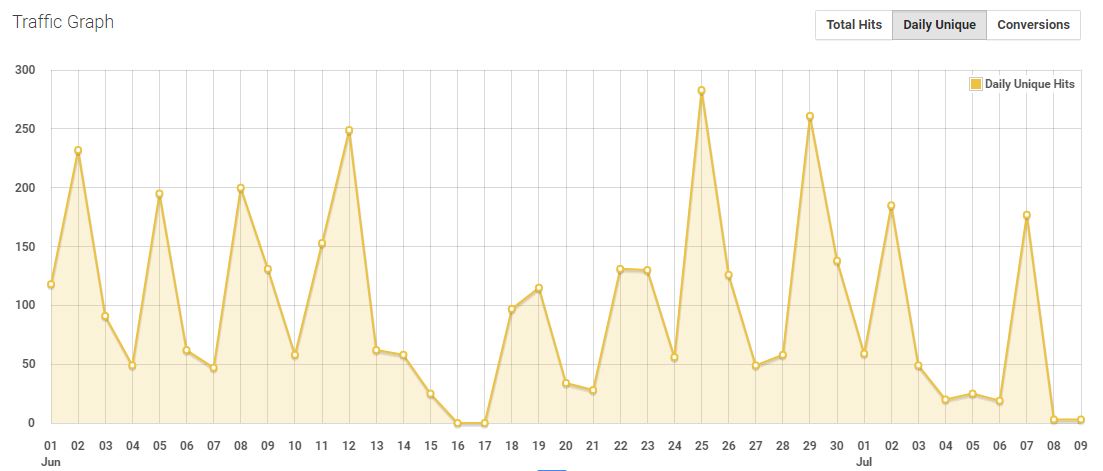 I have been following Marty for years, and her sites continue to deliver. With Mail-Hog I get 70-90 unique clicks per day.
First-Class members can email 5000 members every 2 days and earn 50% commission.


EuropeanSafelist is another daily constant. I send to 17,000 members daily which yields 45-72 unique clicks per day.
Pro Members can email 3 times per day.
The Newest CHIPS Sites (just added October 2020)

Ads-Messenger - Total Members: 12,000+. 100 Guaranteed Views to Your Every Ad!
Recommended Upgrade: Monthly Elite Upgrade - $15 per month
10 Messages Posts added to your account every month.
SAVE: 3 Month Elite Upgrade(Save 33%) only $30
30 Messages Posts added to your account

Adchiever - Rewarding You to Achieve. Has been a top advertising site for many years. Average CTR on Email Ads: 4.11%
Recommended Upgrade: Diamond - $29.97 per month
Earn 50% Commission
BuildABizOnline - All the All The Tools You Need To Build Your Online Business. Not necessarily a traffic site but great trackers and stats, splashpage builder, URL rotator, Autoresponder.
Pro - $10 per month. Does not Earn Commissions
Recommended Upgrade - NEW! Pro Executive - $14.00 per month. Earn $10 Recurring Commission for each referral.
Other CHIPS Sites
TheLeadMagnet - 20-40 unique clicks per day
ProactiveMailer - 10-20 unique clicks per day - PAYS
MisterSafelist - 30-50 unique clicks per day - PAYS
Mailsy - 20-43 unique clicks per day - PAYS
ListAvail 23-36 unique clicks per day
GlobalSafelist - 22-33 unique clicks per day
"Retired" CHIPS Sites (although I still USE and PROMOTE them)
LandMarketingMailer - 12-23 unique clicks per day
---
It is important to understand that the CHIPS sites are not only the source of PROVEN QUALITY TRAFFIC, but also the source of REVENUE through commissions for your SPONSOR, and ultimately YOU.
YOU WANT TO BE PAID, but so does your sponsor!
Residual Revenue from Recurring Affiliate Commissions makes the Network Marketing World Go Around!
DO NOT TAKE ANY SHORTCUTS.
Be sure you join UNDER YOUR SPONSOR!!! If already a member of a site, if permitted, create ANOTHER ACCOUNT using your sponsor's affiliate link. If not permitted, terminate your existing membership and join again under your sponsor. Even though it is emphatically stated in Secrets of the Big Dogs, be sure to reiterate this to your prospects!
THIS IS HOW YOU GET PAID!
Upgrade on the CHIPS sites to the highest level you can afford. Eventually, you want to be at the level recommended in Secrets of the Big Dogs. This gives you the most traffic capability and the highest commissions.
Big Dogs WORKS if you Follow the PLAN
(Click the cover to join BigDogs)
Rich Moyer

RichMoyer@WebcastSource.com
---

Click the Banner Above to Join
OR...
Discover More About Secrets of the BIG Dogs!
Simply Enter Your Name and Email

---
Copyright (c) 2022 Rich Moyer dba Spaho Consulting