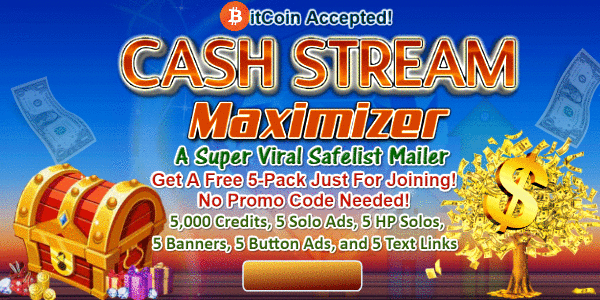 Login Offer #4
15 SuperSolos + Ad Pack Site Ads
for $21 USD
Site of the Day
CashStreamMaximizer
790+ ACTIVE Members
Join for Free
Receive a 3-Pack for Joining
+ 5-Pack with Promo code newmember
But Don't Stop There!
The REAL POWER in Safelist Advertising is
SUPERSOLOS
Login Offer #4 is a way to get
15 HUGE SuperSolos + Site Ads for only $21.00
THIS IS NOT AN UPGRADE
Just HUGE Savings
On Super Solos and Site Ads!
That's right! A one-time fee for
Login Offer #4 is ONLY 21.00 Bucks!
Site Ads You Receive:
3,000 Mailer Credits
3 Contact Solo Ads
3 HP Solo Ads
3 468x60 Banner Ads
3 125x125 Button Ads
3 Text Links
CashStreamMaximizer has 5 Ways to Email:
Solos, HP Solos, Credit Mailer, List Mailer, Referral Mailer
OFFER ALSO INCLUDES...
1 SuperSolo on each of 5 Different SuperNetworks
(I LOVE SuperSolos - I Use These Myself)
Get More Eyes on Your Ads
Get More Unique Clicks

3 PowerSoloXTRM SuperSolos
reaching 101,000+ members

3 PowerSoloPlus SuperSolos
reaching 99,000+ members

3 GlobalViral SuperSolos
reaching 93,000+ members

3 TopApex SuperSolos
reaching 93,000+ members

3 Ultimate SuperSolos
reaching 121,000+ members
I average 80 to 200 clicks for each SuperSolo

These SuperSolos Normally Cost $3.99 each.
Get them all with Login Offer #4 for only $21.00!
SuperSolos are the secret
that enables me to
Send 250,000 to 1 Million
Emails Per Day!
Rich Moyer
Click the Banner Below to Join
Select Login Offer #4
For More Information About the
New Technology Safelist Sites,
Hints, Tips, and Other Traffic Sources
Sign up for my Newsletter Below
Budget Limited?

CashStreamMaximizer Login Offer #5

5 Super Solos + Ad Pack!!!
Only $7.00

Sign Up Free and
Purchase Login Offer #5